Gargrave lies on the busy A65 trunk road, four miles north west of Skipton. One of the largest villages in the Craven District of North Yorkshire, it sits astride the river Aire, only seven miles from its source at Malham.
[The map is a slideshow that  zooms in on Gargrave.]
Robert Story, the Gargrave schoolmaster-poet, described the village in the 1820's as:
"situated in the very centre of a district remarkable for its romantic beauty. A bridge, rather elegant and somewhat large for the stream it bestrides, connects the two parts of he village which would otherwise be separated by the river. On the south side of the river stands the church, the square and tall steeple of which is seen above the trees that surround the quiet burial ground. Along the north side the principal part of the village extends; some of the cottages with clean whitewashed fronts, some covered with ivy or other evergreens and some again with flowering shrubs. A branch of the Queens highway passes through this part of the village, and thus, whilst it detracts something from the seclusion, is the means of making its charms more widely known"
Some things have changed, the road traffic is busier and there has been considerable building since the war, yet much of Story's village is still there to be seen and enjoyed.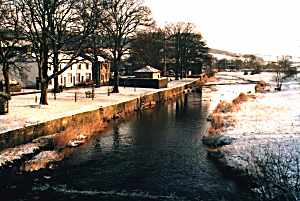 Situated at the head of the Aire gap, the railway, the roads and the canal, all converge on the village before going their separate ways, the railway to Lancaster and Carlisle, the canal to Burnley and beyond, and the road to the Lake District and the north. The river wanders away from them all to its source at Malham through the picturesque countryside of the Yorkshire Dales National Park.
Gargrave is probably unique in that there is public access to the river on its way through the village from five "village greens", a feature which makes it popular with resident and tourist alike. Therer are many picturesque walks around the village, the famous Pennine Way passes through the very centre of the village.
With it pubs, shops, cafes, tourist accommodation, picturesque byways and a touch of history, the village is well worth a visit at any time of year and is an excellent centre for touring the Yorkshire Dales.
You can see more transportation options on the Travel page.