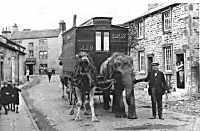 This page is about Gargrave History and presents information about the history of Gargrave.
For a small place Gargrave has a fair amount of documented history. Much of the pictorial record around the start of the twentieth century came from Tom Airton. Including the title graphic above and the image of Bostock and Wombwells Menagerie here on the right.
The original articles were presented by Dennis French and others. Attribution for sources is given where available.
We will try to continue the tradition using the information that he left us with. We are working through the archive gradually in an effort to make it available online.
Some of the historical articles on this site contain information supplied by members of the Gargrave Heritage Society.
You will find copies of Dennis French's articles on the Gargrave Heritage Society website. The Gargrave Heritage Society are also in the process of collecting information about the history of Gargrave.
Gargrave History: Original Website Articles
Gargrave History: More Recent Articles