By Peter French.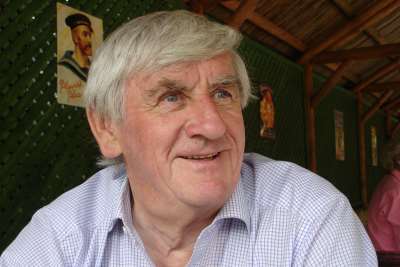 Dennis French Died 2015
Dennis French is my Dad. The Dad that I knew was supportive of his family all through his life.
In the years he was playing football and doing various tasks around football we lost him every Saturday to one of the great passions of his life. He loved football and after he finished playing he enjoyed supporting others in their love of the game.
He often walked around with his camera, a trait that I have picked up, there's so much worth recording as we walk around our every day lives. I remember he had a love of history of the village one that he shared with others but most notably with Bob Kirkbright. They were great friends and lots of the stuff he knew about the village came from Bob. Bob was his friend for a lot of his life.
Dennis French was a life long note taker. He wrote notes about so many things. Mum used to laugh about early diaries that she saw. He had notes about seeing something represented by a number and comments about it looking good. Mum thought it was another woman, it turned out to be a steam engine. Trains were another love in his life and he spent a lot of time watching, filming and photographing them. I remember many hours sat watching the trains going over the now iconic Ribblehead viaduct. We had great fun in the stream, it was like a second home to us as kids. The rest of the world hadn't caught up with the trains there at that time.
Dennis French did trains all around the world. But trains always led back to the Settle Carlisle railway, another of the great loves of his life. What a lot of people don't realise though was that he loved watching trains. Yes going on trains was great to him but watching them meant so much more to him. We were all taken to watch the last steam train as it came through Dent station. A great blow to the railways and also to Settle Carlisle. He knew that diesels were more effective though. They were easier to run, easier to start up in a morning and didn't break down as often.
One of my earliest memories was standing on the fence at engine shed lane in Skipton looking at the lines of steam engines waiting to be taken to he scrap yard. I think that I only remember it because my Dad took a picture of it.
He worked at Rolls Royce, a job originally arranged by my Granny (Beatrice French) who cleaned for a senior figure in the Rolls Royce company in Barnoldswick. She asked about work one day and got him an interview that led to the job he had for 37 years. He always called himself a draughtsman but later he ran the drawing office as a production engineer for the production of jet engine fan blades. Aircraft were another thing he had an incredible knowledge of. The RB in the RB211 engine stands for Rolls Barnoldswick, they developed a lot of it there.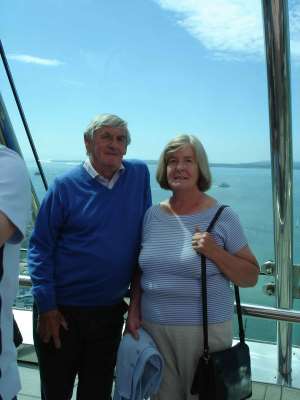 Dad was an active member of the Rolls Royce wine club and they knew how to do parties. They did parties in several countries although the annual bash in Southport was usually a notable calendar entry. It wasn't fancy and it wasn't expensive but they had a lot of fun. It was fancy dress and everyone took their home brew.
I remember sending him a humorous stories about jet engine testing. A UK test team had developed a gun that fired chickens at engines to test their ability to resist bird strikes. An American team bought one to improve their testing. In the initial test in the US the report came back that they had run up the engine and fired a chicken at it which had gone right through and destroyed the engine and embedded the chicken at the back of the control room. The UK team said that they should defrost the chickens first. Now to me that was a good punch line but my Dad said I knew the guys who developed that gun, they worked at Rolls Royce Derby.
Rolls Royce was a great source of information and skilled friends. Back in the 1970s Dad got someone to build him a rudimentary rostrum camera that he could mount his camera pointing down so that he could copy pictures on to photographic slides.
He spent a long time on the calculations, settings and angles so that he could get repeatable quality using a flash gun while copying pictures. He eventually sorted that out and that was where he started his collection of pictures of Old Gargrave. He made careful notes of who supplied what image and was always grateful for their help. He made an attempt to identify all the local people who were in the pictures too.
Dennis French recognised something that people still forget:
Tomorrow's history is happening today.
A big source of pictorial record from the early 20th century was from Tom Airton. Dad tried to follow in his footsteps and he photographed things that were new, things that were about to be knocked down and so many other day to day changes. He recognised that the resource of older people in the village is their knowledge of who lived where and all about their families.
I remember his surprise at the first Tuesday night men's section when he presented the first Old Gargrave. Not only was it packed, it sparked the interest of so many people and lots of people came forward with information about who was on various pictures, where they lived, who lived next door and all that mundane information that we count as history. All that information that most of us would like to dig up and we forget that it's in the head of someone who lives just up the road. You only have to ask.
He didn't spend all his waking hours on any one thing. The grass had to be cut and tended and the house needed maintaining and there were holidays to be had. He spent a bit of time on each of his passions in the back ground. Nothing intruded obviously in to our life, of maybe it just seems like that because that was the only life that we knew.
I bought him the www.gargrave.org.uk URL in about 2000 as a Christmas present. The idea was that I'd set up the site and show him how to do it. He usually picked up stuff like that. It ended up with me doing the site and him finding things out. Each year the Village Hall booklet was transcribed in to the site. Too much work, Dad's ill health and so many things has meant that I couldn't keep up and he couldn't find out a lot of the things he would have liked to.
I don't think he had a big dream of the future. He had a love of the past and a great love of holidays and family and football and trains and all those things that are ordinary and happening in the here and now.
He leaves behind him a hole. A hole in the family, a hole in the information about old Gargrave and a hole in the recording of what's happening now.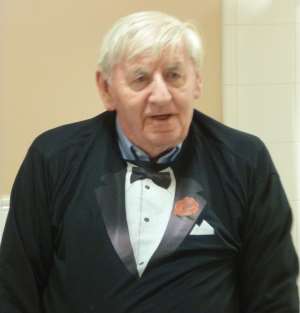 He managed a great thing,
he fitted it all in to a lifetime.