John Thomas Airton (1855-1914) A Short Biography
By Dennis French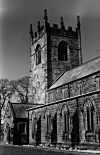 Half way down the churchyard on the right of the path you will find a gravestone recording the passing of "John Thomas Airton, died 27.9.1914". The inscription underneath "In the midst of life we are in death" has a very tragic story to tell.
John Thomas Airton was originally a signalman on the Midland Railway at Gargrave. But his passion in later life was photography. Early photographs of the village are not uncommon, but when Thomas Airton set up his studio at what is now no 6, High Street, things began to change. He recorded every aspect of village life, from personal and family photographs, football, hockey and cricket teams, to groups of people on street corners and village scenes in general. His output was prolific particularly around 1912 when he covered events such as the Wesleyan Sunday School procession, the arrival and departure of the Manchester Regiment to its summer camp above the Anchor Inn, and the best of them all, the camel and elephant hauling Bostock and Wombwells circus wagon past the old Chapel. As the war approached he photographed many of the local men in uniform, along with their families, now possibly the only memory of many of those who failed to return.
Sadly the story has a very unhappy ending. For some time, Tom had been unofficial caretaker of the Liberal Club situated above the small newspaper shop, (Now Mr & Mrs Rayners) on the High Street.
The lighting was provided by an Acetyline Gas system which had given problems on a previous occasion. Months earlier, the then caretaker, Mrs Rhodes, had struck a match in the vicinity of the gas plant and had been hurled across the room by an explosion. Luckily she was only "scorched and shaken", but the warning went unheeded.
On the night of the 27th of September, Tom opened up as usual, but when he attempted to light up, disaster stuck for the second time. He too was caught in the blast and was hit by flying debris and seriously injured. Dr Cameron was immediately on the scene but there was little he could do. Tom was carried home and sadly died the same evening.
The village mourned the loss of one of its most foremost and respected citizens. On the day of the funeral,shops were half shuttered and blinds were drawn on the route to the village church. The cortege was led by members of the Liberal and Conservative Clubs, the coffin attended by four uniformed signalmen, and followed by family mourners and personal friends and a large attendance of villagers.
Such was the sense of loss at his death that John Hyde, a life long friend, wrote these lines……
And Airtons gone
It cannot be
Cut off at 59, like 88 was he.
So blithe, so free.
Oh, tragic end,
How can it be,that he
Who always did the bright side see
Should come to this.
Oh, dreadful night,
That robbed us of a friend,
Both yours and mine,
Hard fate was his,.
Called from us in his prime.
Within that hallowed ground,
With mourners gathered round,
Their last respects to pay,
The sun shone bright with radiant light,
Emblem of Coming Day.
So, we laid him there
In that deep down grave,
With eyes that were full of tears:
Twas a lesson for all, both great and small,
To redeem the coming years.